Landtours
For experienced and unexperienced riders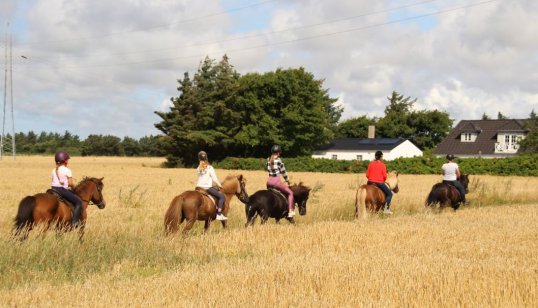 For both experienced and unexperienced riders, we offer the landtours.
One hour between beautiful lakes, meadows and forests with a rich bird- and animallife.

Experienced riders are not put in the same group as unexperienced riders, unless it is specificly asked for.

Foto: Markus Rebig

In the beginning of every tour we go to the field and fetch the horses together. After that you brush the horse, clean its hoofes and get it saddled. If you never have tried it before, of course we will help you.

Everybody who never has been here before, rides one round in the paddock to start with. Here you will get some instruction in how to sit on and ride your horse.

After this we ride our trip in the countryside. On the tour we mostly ride on tracks and in the forest. On the whole tour we adjust the speed to the riders skills, and often we even try a short galop (with instructions).

The tour for experienced riders will be ridden in generally higher speed than the beginner tours and there will be more galop.